Insomnia is an epidemic in the modern world, with stress and unusual working hours keeping many people up at night. For around 20 percent of American adults, an alcoholic beverage is a go-to relief, helping them to stop the tossing and turning. According to several studies on alcohol and sleep, this can have serious effects on both our circadian rhythms and our whole-body health. Although alcohol may make you feel sleepier, it can actually interfere with the body's circadian rhythm and keep you from getting the sleep you need.
The Circadian Rhythm, Alcohol and Sleep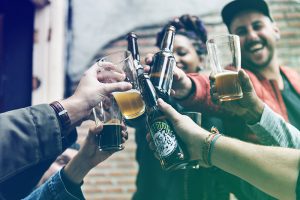 Have you ever woken up after a night at the bars feeling like you hadn't even slept a wink? Staying out late was likely not the only reason for your fatigue.
Every cell of our bodies runs by its own internal clock, which gives it cues as to when to metabolize, when to rest and when to run critical processes such as DNA repair. In addition, our cells and tissues answer to a larger circadian clock that coordinates the timing of important functions using hormones such as melatonin and cortisol.
Located deep in the suprachiasmatic nucleus (SCN) of our brains, our circadian clock helps to keep critical cell functions running at optimal times according to our own internal schedule as well as external cues like the presence of light. Alcohol, however, appears to disrupt this master clock.
Scientists took groups of mice and gave some alcohol while giving the control group water. They then measured the behavior of the mice as well as their responses to light and other factors. Mice that had drunk alcohol slept a significantly shorter time on average than tee-totaling mice. In addition, they were more sensitive to external cues, waking with the slightest light.
Perhaps most significantly, this effect lasted well beyond the time that the alcohol was in their systems. In mice, as in humans, the effects of chronic alcohol use on sleep can be seen for months after drinking is stopped. If you enjoy drinking several nights a week, your sleep may still suffer even after months of sobriety.
The Effect of Alcohol on Melatonin Production
One of the main ways that alcohol can affect sleep is by suppressing melatonin production. Stored in the pineal gland and released in response to cues from the suprachiasmatic nucleus, melatonin is one of the most important biochemicals in regulating your circadian clocks. This hormone is best known for supporting sleep, but also acts as a powerful antioxidant and cell repair molecule.
Low levels of melatonin have been linked to sleep disorders as well as a wide variety of serious diseases. Drinking may reduce levels of melatonin to levels that are not sufficient to sustain good health. A study of young healthy adults, all with stable sleep-wake cycles, found that even this low-risk group saw an almost 20-percent decrease in melatonin production when drinking. This could interfere with sleeping while also increasing the risk of depression and even cancer.
Alcohol and the Liver's Internal Clocks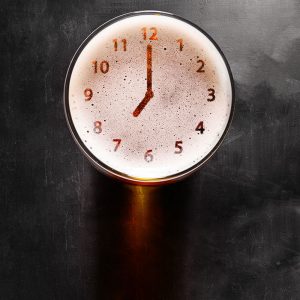 The effects of alcohol on the liver are well-known, with diseases from liver cirrhosis to liver cancer linked to excessive imbibing. This is partially due to the role of the liver in cleaning alcohol from the bloodstream. However, a 2015 study found that alcohol has a serious effect on the circadian rhythm of liver cells, which may be partially responsible for alcoholic liver disease.
The liver has a variety of roles in metabolism and detoxification. Its activities are regulated by a wide range of factors, including circadian clocks. Alcohol disrupts the internal clocks of liver cells. This leaves them less able to repair themselves from damage that occurs throughout the day. Over time, this can lead to cumulative damage, fatty liver disease and even deadly conditions such as cirrhosis of the liver.
Getting the Sleep You Need
Many people use alcohol as a sleep aid without realizing its serious effects on the circadian rhythm. This may lead to a variety of negative health consequences. Sleep is important to your health in a variety of ways; even small disruptions to the circadian rhythm can have disastrous long-term health consequences. If you are looking for a way to fall asleep and are tempted to reach for a glass of wine, consider the following options instead:
Keep a steady sleep schedule. You should go to sleep and rise at about the same time every day, even on weekends.
Reserve your bedroom for sex and sleep. This primes your brain to prepare for sleep as soon as you settle into bed.
Reduce stress in the evening. Put away the email and turn off the national news several hours before bedtime. Consider exercise, yoga, meditation or whatever helps you to find inner peace.
Avoid stimulants. Cigarettes and caffeine can disrupt your sleep as much as alcohol.
Limit light exposure. Light exposure, even small amounts from a smartphone screen, tells your brain that it is still daylight and to delay melatonin production.
Consider taking a melatonin supplement. These safe and natural supplements are just what some people need to fall fast asleep.