Scientists have long tried to figure out exactly how cancer occurs in hopes of finding a cure. Circadian clock genes may be an important piece of this puzzle.
Research has led to a great deal of understanding about cancer. We now know which lifestyle choices can lead to cancer as well as many approaches to treating it. This is valuable information and represents a great deal of progress, especially when you consider that people believed smoking was a healthy choice just a few decades ago. However, the fact remains that there is still a great deal we do not understand about cancer and how it occurs. New chronobiology research into how circadian clock genes regulate cancer may allow us to better detect and treat this serious illness.
What Is Cancer?
For most people, cancer is a death sentence. Few bother to understand the cellular processes causing this disease because of the understandable fear associated with it.
Cell growth is tightly regulated in the human body. Cells grow and divide only when told to by several different cues. These cells stop dividing and growing when the tissues they comprise reach a certain mass. This is essential to the function of the human body. There are a variety of checkpoints that stop cells from dividing when they are unneeded or when they would compromise the health of surrounding cells and tissues. Cancer is caused by a break in the checkpoints that prevent cells from dividing out of control.
The Role of Circadian Clock Genes in the Cell Cycle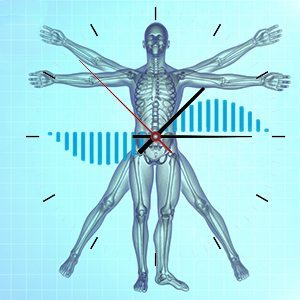 We are just beginning to understand exactly how important the circadian rhythm is in the cell cycle. The circadian rhythm is a 24-hour cycle governed mainly by cycles of light and dark, while the cell cycle is governed more by demand for new cells combined with competition for space and nutrients. These two cycles appear to be linked by several proteins that are common to both pathways. Humans and other mammals tend to engage in cell growth and division mainly at night when we sleep. We also undergo vital repair processes at night that ensure that the reproducing cells have the correct genetic coding to fulfill their duties.
How are the two cycles coupled by common proteins? There are several genes that make proteins only at specific times, according to recent studies. These proteins in turn tell cells whether to divide and even whether to die. The life, growth and death of cells are determined by these circadian rhythm genes. When growth begins to happen without healthy controls, these circadian genes are often to blame.
C-MYC: The Link Between the Circadian Rhythm and Cancer
Many studies have pointed to c-MYC as a potential regulator of tumors and cancer. This protein is kept in check by another protein known as CRY2. When researchers eliminated the gene that produces CRY2 in mice, they developed tumors that grew out of control and became deadly—in other words, cancer. CRY2 also is important in the circadian rhythm of both mice and humans, determining diverse daily processes such as hunger and fatigue. Like many circadian clock genes, CRY2 is expressed in a rhythmic pattern according to the time of day. Because it degrades the oncogene c-MYC, it also appears to play a major role in preventing cancer.
How is circadian rhythm so important in human health? Why do people with a dysregulated circadian rhythm have increased cancer risk? While the connections are often unclear, understanding more about this connection will hopefully allow us to prevent, detect and treat cancer more effectively. Ultimately, learning about the role of circadian clock genes in life-threatening diseases will lead to longer and healthier lives for all of us as well as a greater understanding of how we can personally lower our risk.