While the cooler weather of winter may make it tempting to forego outdoor exercise, studies show that you could be giving up some significant benefits. Researchers have found that outdoor winter exercise can burn more fat and calories than exercising outside during other times of the year.
Furthermore, exercising outdoors during the winter can help promote better circadian rhythm health, improve sleep, boost Vitamin D levels — thereby helping to strengthen the immune system — and help protect against seasonal affective disorder (SAD). Dressing properly and paying attention to your body's signals can help you to safely enjoy exercising outside in the winter.
What Studies Reveal About Winter Exercise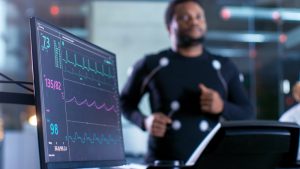 A Canadian study, published in the Journal of Applied Physiology, found that ambient temperature is a factor in the rate of lipid oxidation, the technical name for fat burning. This study was small, and focused on eleven participants between 18 and 30 years of age.
The study participants were all somewhat overweight but were required to be fairly physically fit. They engaged in high-intensity interval training (HIIT) in two temperature settings; one at 70 degrees Fahrenheit and the other at 32 degrees. Upon reviewing the data collected from blood samples, the researchers determined that exercising in the cold did yield a higher rate of fat burning than exercising in warmer conditions.
In another study, published in 2017 in the American Journal of Human Biology, researchers were able to demonstrate that people doing physical activity outside in cold weather burned more calories than people doing similar activities in warmer weather. This study involved 53 people, both men and women, who were participating in National Outdoor Leadership School program in Wyoming. This study was notable because it took place in real world conditions rather than a temperature-controlled laboratory setting.
The study compared the calorie expenditures of people hiking in 15-to-23-degree weather and those hiking in temperatures in the mid 50s. According to the results of this study, those hiking in the colder temperatures burned 34 percent more calories than did those hiking in warmer weather.
Exercising Outdoors in Winter Offers Other Health Benefits
Aside from helping to transform the white fat of the belly and thigh regions to brown, calorie burning fat tissue, there are other health benefits to outdoor cold weather exercise. The shorter days of winter often lead to a significant decrease in natural light exposure. Light is the primary environmental cue for the circadian rhythm, an important regulator of many physical processes, including sleep timing. Because sleep is so essential to physical health, cognitive functioning and mental well-being, sleep disruption can be considered a serious health issue. Exercising outdoors during the day in winter is a great way to get the natural light exposure you need.
Some people are more sensitive to the reduced natural light of winter. Less sunshine can translate into winter blues or even seasonal affective disorder (SAD), a type of seasonal depression. Winter outdoor exercise can help to combat seasonal downturns in mood by increasing sunshine exposure, improving sleep, boosting energy and promoting circadian rhythm health.
Being out in the sun during winter helps to increase Vitamin D levels. That can work to strengthen the immune system, as does the better circadian rhythm health and improved sleep that outdoor winter exercising offers. Better immune system function can improve your body's ability to fight off infections and keep disease at bay.
Dress for Success When it Comes to Winter Exercise
An important key to outdoor winter exercise success is how you dress. Looking through the window at a cold winter day can make you want to bundle up in heavy winter gear before heading out the door. However, that can be a mistake, leaving you uncomfortable and chilled, due to sweating when you get active.
Instead of heavy winter wear, the better choice is to use layers, avoiding cotton because it absorbs sweat instead of repelling it. Consider a first layer of synthetic fabric, a second of wool or fleece and a third waterproof-yet-breathable layer serving as a windbreaker. Using the layered approach, you can easily control your temperature by removing and replacing layers as needed.
Pay Attention to Your Body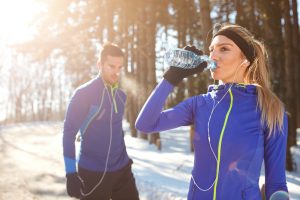 When exercising outdoors during the winter, it is important to pay attention to your body. You can still get dehydrated in the winter, so make sure to drink enough before, during and after your work out. In very cold weather, frostbite and hypothermia are possible, so know the signs. If you are feeling numbness or stinging in exposed skin, you could be in danger of frost bite. Hypothermia symptoms include slurred speech, decreased coordination, intense and uncontrollable shivering and exhaustion. If you experience any of these symptoms, take immediate and appropriate action. Get out of the cold and seek medical attention.