One of the most important things we can learn from chronobiology is that while the majority of us may live an urban, gleamingly modern lifestyle, we cannot really separate ourselves from the ancient, more agrarian rhythms we evolved to over countless generations. Not if we hope to achieve and maintain optimal health and fitness, that is. These rhythms are encoded in us on the most basic levels, making up the very mechanics of how our bodies work, including how we metabolize the food we eat into the energy that fuels all bodily processes. Tightly tuned to the daily rhythms of metabolism, a chronobiology based meal timing plan can be a real game-changer for improving fitness and health.
In Good Time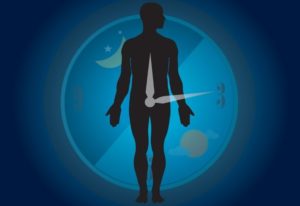 Chronobiology dives deep, all the way down to the timing of the actions of an individual cell. The influence of chronobiology is broad, encompassing all life on Earth, from the simplest single-cell organism to the highly complex systems that make up a human being. In short, timing is essential when it comes to maximizing your health and well-being. That is especially true when it comes to the metabolism of food, a highly complex process involving an almost uncountable number of chemical interactions and reactions.
The overarching timing of metabolism is driven by circadian rhythms, which operate in an approximately 24-hour cycle. Based upon the cycle of day and night and sensitive to such powerful environmental cues as light and physical activity, the circadian rhythm influences the timing of most bodily processes, including the production of essential metabolic system hormones, including insulin and melatonin. The mechanics of metabolism evolved in tune with this rhythm; a rhythm that is often disrupted by modern living and eating patterns, contributing to the global epidemic of obesity and other metabolic disorders such as diabetes.
Meal Timing Matters
Nutritional content is just part of what is important when it comes to meal planning. There is a growing consensus in the medical science community that the timing of meals is also important. Nighttime eating has long been associated with a higher risk of obesity. Excess weight drives up the risk of developing a broad range of diseases and chronic health conditions, ranging from type two diabetes, cardiovascular disease and joint problems to mobility issues, respiratory conditions and even certain types of cancers. In general, obesity is very hard on overall health and well-being.
Our bodies have evolved to a more natural rhythm of eating to fuel physical activity during daylight hours and sleeping at night, which is when restorative processes, such as healing and growth, take place. The pattern of action displayed by insulin in shifting glucose to the cells offers a good example of that. Insulin functions more efficiently during the day. Modern living patterns disrupt that rhythm. Shift workers are more likely to have disordered meal timing, disrupted circadian rhythms, higher rates of obesity and increased disease and metabolic disorder risks. A meal timing plan can help you improve health by working effectively with how your body and its systems are designed to operate.
The Chronodiet: A a Chronobiology Based Meal Timing Plan
When planning meals from the perspective of chronobiology, it all comes down to the right elements – proteins, fats and carbohydrates – at the right times. The Chronodiet was developed with this principle in mind. Plan for well-timed carbohydrates to make up about 40 percent of your daily diet, with about 30 percent resting upon quality proteins and about 30 percent based on healthy fats. You'll have more success using high quality carbohydrates, as opposed to highly processed foods, and real, whole food.
Schedule your meals about five hours apart. Make your calories count by avoiding empty calories that offer little nutritional value. That way, you'll find it much easier to avoid snacking between meals, allowing you to succeed at the intermittent fasting that is a part of this approach to meal planning. And, remember, breakfast really is the most important meal of the day, setting the stage for how your body's metabolism will operate for the day. Don't skip it, because the bulk of your daily food intake is best eaten early in the day.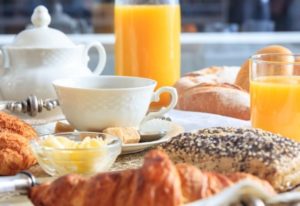 Breakfast is a great time for carbohydrates to fuel the day. Choose whole grains because they're better carbs. Add some higher fat proteins and you're ready to greet the day. When lunch time rolls around, you can include carbohydrates, but make sure to also include protein and vegetables. At dinnertime, the starring role should be given to high quality protein with some vegetables. Carbohydrates are better eaten earlier in the day. Don't eat after dinner. That is especially true of carbohydrates. Water is the perfect between meal beverage.
Enjoy Your Well-Timed Dining
Whether choosing a diet for health, weight loss or both, it's important that you enjoy it. You increase the likelihood of reaching your health and fitness goals if you enjoy the process. After all, a change of diet is really a change of lifestyle and you'll be more likely to stick to it if you can take pleasure in that new way of living. Try some of the recipes below for a delicious start to your healthier Chronodiet meal planning.
Chocolate Granola (Breakfast)
INGREDIENTS
4 cups old-fashioned oats
1 cup slivered almonds (or your preferred nuts)
1/3 cup unsweetened cocoa powder
1 teaspoon fine sea salt
1/2 cup melted coconut oil
1/2 cup maple syrup
2 teaspoons vanilla extract
2/3 cup unsweetened flaked coconut (or 1/2 cup shredded coconut)
1/2 cup semisweet chocolate chips (optional)
INSTRUCTIONS
Heat oven to 350°F.  Line a large baking sheet with parchment paper, and set aside.
In a large mixing bowl, stir together oats, almonds, cocoa powder and sea salt until evenly combined.
In a separate mixing cup, stir together the melted coconut oil, maple syrup and vanilla extract until combined.  Pour the coconut oil mixture into the oats mixture, and stir until evenly combined.
Spread the granola out evenly on the prepared baking sheet.  Bake for 20 minutes, stirring once halfway through.  Remove from the oven, give the mixture a good stir and sprinkle the coconut evenly on top.  Bake for 5 more minutes, until the granola is lightly toasted and golden.
Remove baking sheet from the oven and transfer to a wire baking rack.  Let cool until the granola reaches room temperature.  Then stir in the chocolate chips and/or any other add-ins that you prefer.
Serve immediately, or store in an airtight container at room temperature for up to 1 month.
Carrot Pumpkin Soup (Lunch)
INGREDIENTS
3 tablespoons olive oil
1 medium onion, chopped
3 cloves of garlic, minced or pressed
1 cup pumpkin, chopped into 1-inch pieces
1 medium parsley root, chopped
3 medium carrots, chopped
2 and 1/2 cups vegetable stock
1 teaspoon Herbes de Provence spice mix
1/2 cup half and half cream + 2 tablespoons for garnish
salt and pepper, to taste
pinch of chilli powder, to taste
fresh herbs and roasted sunflower seeds, for garnish (optional)
INSTRUCTIONS
Heat olive oil in a saucepan over medium heat. Add onion and garlic and fry for 2 to 3 minutes until soft and translucent. Add pumpkin, parsley root and carrot, and cook for another 5 minutes, stirring occasionally.
Add vegetable stock and Herbes de Provence spice mix and stir together. Reduce heat to low, cover, and simmer for 25 minutes.
Remove the soup from heat. Using an immersion blender or food processor, pulse until smooth.
Add cream and season to taste with salt and pepper. Add a pinch of powdered chilli (you can skip this if you cannot handle an little kick of heat).
Transfer to 6 serving bowls, decorate with a swirl of cream, herbs and sunflower seeds. Serve hot.
Pork Medallions (Dinner)
INGREDIENTS
1 tablespoon canola oil
1 (1-lb.) pork tenderloin, trimmed and cut crosswise into 12 medallions
1/2 teaspoon kosher salt
1/4 teaspoon garlic powder
1/4 teaspoon black pepper
Fresh thyme leaves (optional)
INSTRUCTIONS
Heat oil in a 12-inch skillet over medium-high. Arrange pork medallions in a single layer on a work surface, and press each with the palm of your hand to flatten to an even thickness.
Combine salt, garlic powder, and pepper; sprinkle evenly over pork. Add pork to skillet in a single layer; cook just until done, about 3 minutes per side
Remove from heat; let stand 5 minutes before serving. Garnish with thyme leaves, if desired.