One in 12 Americans suffers from asthma, an inflammatory airway disease costing an estimated $56 billion in the United States. Not only is the rate of the disease steadily increasing, but the severity of the symptoms is on the rise as well. Treating asthma effectively is a serious challenge for doctors.
However, a new discovery in chronobiology may present an opportunity for more effective treatment of asthma. Asthma symptoms have long been known to follow a seasonal rhythm, worsening at certain times of the year. Now we also know that they follow a circadian rhythm as well, becoming more severe at different times of the day.
The Circadian Rhythm of Asthma
Asthma symptoms worsen at night, especially late at night and early in the morning. This is likely due to several factors. First, lung function follows a diurnal rhythm, with improved pulmonary function during the day. This is likely due to increased need, as most people are undergoing strenuous activity in daylight hours. Second, inflammation, a primary cause of asthma symptoms, follows a circadian rhythm in which more inflammatory molecules are released at night. The lowered pulmonary function and increased inflammation most likely contribute to the increase of asthma symptoms at night.
Diurnal Variation in Asthma Symptoms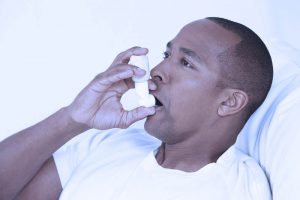 How much do asthma symptoms vary over a 24-hour period? 74 percent of people with asthma waken at least once a week in the early morning hours with symptoms such as wheezing and shortness of breath. 40 percent report having these symptoms on a nightly basis. Death from asthma is also more likely to happen in the late night and early morning hours. For many people with asthma, breathing during the early morning hours is their greatest health challenge. This makes early morning symptoms an incredible challenge for the health care professionals responsible for treating patients with asthma.
A recent study published in the journal of ChronoPhysiology and Therapy examined nocturnal pulmonary function more closely to identify the cause of decreased lung function at night. A group of rats was kept on a tightly controlled schedule, with exactly 12 hours each of light and dark. Their gene expression was measured carefully at both day and night. Researchers found that the expression of genes related to growth factors, metabolism and inflammation all varied significantly and reliably over the 24-hour day.
Hope for Asthma Treatment
This newly discovered diurnal variation in gene expression offers hope for people who struggle to manage asthma symptoms. It suggests that nighttime asthma symptoms may someday be effectively treated by targeting these pathways. In addition, chronic airway inflammation, or asthma that is constant and without circadian variation, may be due to disruptions to pathways that control circadian rhythm. New studies will need to examine this information and its possible applications.
Chronotherapy for Asthma: A New Approach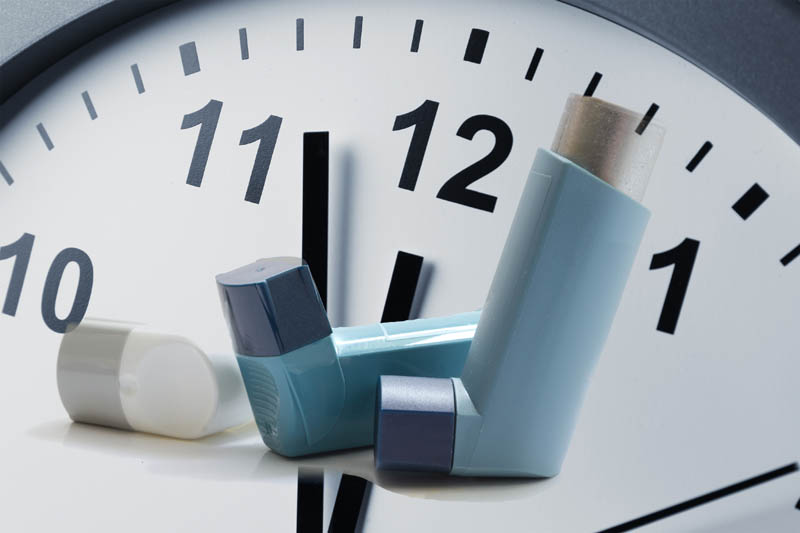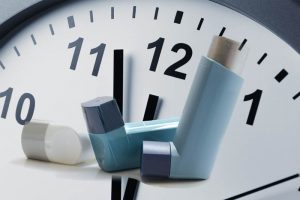 While future studies will be needed to test new drugs that target inflammatory pathways, there is one important lesson to be learned from this recent study. Asthma medication may be more effective at preventing attacks if it is given at certain times of the day. Timing medication and therapies to work best with one's natural circadian rhythm, or chronotherapy, is a relatively new area of health care that has proven successful with other diseases that show a 24-hour variation.
Asthma medication falls under two categories: Medication that prevents attacks and rescue medication that is taken once an attack is occurring. Preventative medication is often taken once per day. However, timing this medication so it has higher levels at night and lower levels during the day may prove to be more effective because it will stop symptoms at the times when they are most likely to occur.
Living with asthma is a challenge for many people; preventing asthma symptoms is a challenge for health care providers as well as an immense cost to our economy. New discoveries in circadian biology and chronotherapy are opening up new avenues for more effective and better-targeted asthma therapy.