The early bird may catch the worm, but a new study on chronotypes suggests that night owls are most intelligent.
Almost all animals have some sort of circadian rhythm, or 24-hour biological clock. Nerve centers in the suprachiasmatic nucleus of the brain perceive light, which cues the body to release hormones and undergo a variety of cellular processes. Humans also have this internal clock, but we are unique among animals in that we can modify our rhythms by choice. By exposing ourselves to light at certain times and other behaviors, humans often end up with a daily schedule that is slightly different from their innate circadian rhythm.
What Are Chronotypes?
Over their lives, humans gradually fall into sleep-wake routines, known as chronotypes. The two most common chronotypes are known colloquially as the night owl and the morning lark. While these can be difficult to define, night owls tend to go to sleep much later and also rise later in the morning, while morning larks are early to bed and early to rise. Chronobiology research has found that there are many differences between night owls and morning larks, even beyond their preferred time to doze.
Chronotypes and Intelligence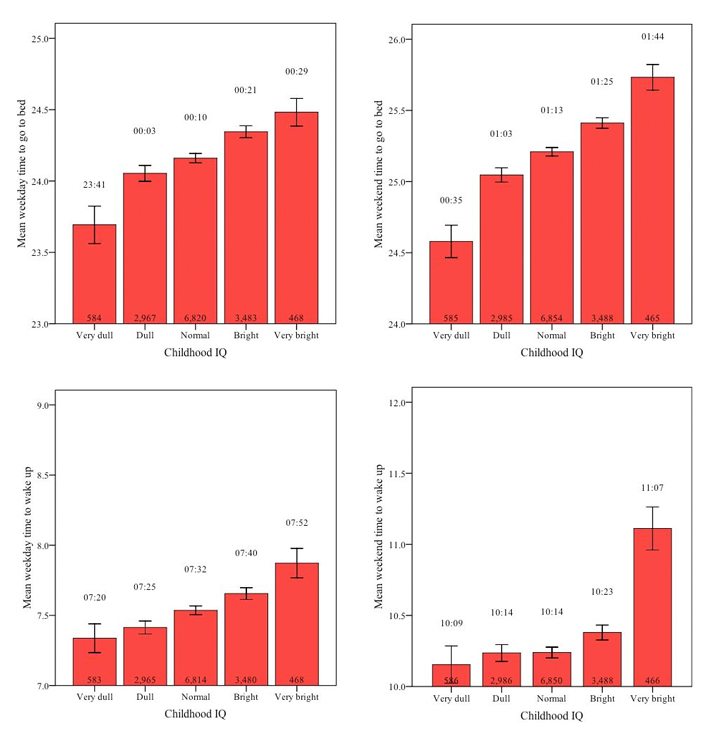 One major finding of a recent study is that people who are more intelligent tend to be night owls. In fact, people with high IQs tend to go to bed 50 minutes after their less intellectually gifted peers. These intelligent people also rise later.
In addition, there are key personality differences between morning larks and night owls. Although night owls tend to be more intelligent, early risers, or morning larks, tend to perform better in school. However, night people are still more successful in their careers and also earn more money on average. Evening types are also more likely to be extroverts and creative thinkers than morning people, who are generally linear thinkers and relatively introverted.
Chronotypes and Health
Being an evening person isn't entirely beneficial. Other studies have linked a night chronotype to risk taking behaviors and even tobacco use. In addition, shift workers are at a higher rate of many chronic diseases, which may be related to keeping late hours. There are likely benefits and drawbacks to both chronotypes.
Which Came First: The Owl or the Egg?
This research raises important questions about circadian rhythm. Are intelligent and outgoing people more likely to choose a late bedtime? Or does a late bedtime somehow cause personality changes that lead to higher IQ scores and more success? These issues will likely be examined in future studies.
These studies provide useful information about the links between circadian rhythm and other traits. However, these are broad generalities. This data does not mean any single morning person is less intelligent than a random night person, but rather that there are interesting connections between personality and one's preferred daily routine. If you are interested in finding out your own chronotype, take this in-depth questionnaire from the WeP and learn more about your circadian rhythm: Chronotype Study.