Alzheimer's disease is one of the most feared diseases of aging. It currently affects more than 5.5 million people in the United States alone, with most of those affected being over the age of 65. Although it is associated with a loss of memory and cognitive function, it also can have devastating physical effects. In fact, it is the sixth leading cause of death in the United States. New research has found several links between circadian rhythm disruption and Alzheimer's disease, suggesting that sleep may be an integral part of maintaining good brain health for a lifetime.
The Underlying Cause of Alzheimer's Disease
Most people are familiar with the primary symptoms of Alzheimer's disease, which include cognitive impairment, memory loss, difficulty in caring for oneself, confusion, personality changes, poor judgment and mental fog. However, people with Alzheimer's disease also suffer from a variety of other issues. One of the lesser known and more common symptom is sleep disturbance. People with neurodegenerative disease often lose their natural rhythms. They are awake at night and then may sleep during daylight hours. In addition, they generally sleep less.
The underlying causes of these diverse symptoms are build-ups of different substances in delicate brain tissues. A protein called beta-amyloid forms plaques, while Tau proteins make neurofibrillary tangles. These progressively impair and damage brain tissues and neurons until they cannot function. According to new research, beta-amyloid build up in particular appears to be linked to disruptions in the circadian rhythm.
Circadian Rhythm Disruption and Alzheimer's Disease Linked
Last summer, researchers first noted that people with sleep disorders appear more likely to develop Alzheimer's disease. Researchers believed that this was due to impairment of the glymphatic system. The glymphatic system as the brain's cleaning service, in which cerebrospinal fluid movement flushes out toxic metabolites. These metabolites include beta-amyloid and Tau proteins. The glymphatic system is most active at night, when the brain is in a state of partial rest and less metabolically active. Thus, a consistent loss of sleep can impair the removal of waste products that can then accumulate and form deposits.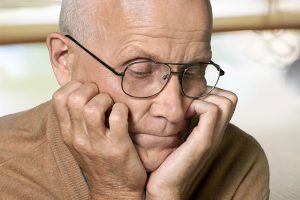 Researchers noted that levels of these two proteins in cerebrospinal fluid increase in people who have even short term sleep loss. However, they appear to return to normal as soon as the person "catches up" on their sleep. Only long term, or chronic, sleep disorders appear linked to neurodegenerative disease.
New research this winter, however, has found an even more conclusive link between circadian rhythm and Alzheimer's disease. People with insomnia and other sleep disorders often show early signs of Alzheimer's disease in brain imaging and cerebrospinal fluid, including very early plaques. This can be seen up to 20 years before other symptoms begin to develop. Further, mice who are genetically engineered to have a disrupted circadian rhythm also show beta-amyloid plaques consistent with Alzheimer's disease.
Sleep and Your Brain Health
This is not the first study to find a link between sleep and brain health. People who have sleep disorders have been found to have mental fog, memory loss and more volatile moods. This is seen not just with chronic sleep disorders, but with short-term sleep loss such as jet lag. In addition, those affected have poor coordination and concentration, leading them to perform poorly on tests and even be at a higher rate of car accidents.
The lymphatic system plays a role in the restorative powers of sleep, but there are other factors as well. Melatonin, a hormone released just before we fall asleep and throughout the night, acts as an anti-oxidant, helping to repair damage to organ and tissues, including the brain. In addition, memory consolidation and other important tasks occur primarily when we are sleeping. While you are deep in dreams, your brain is cleaning up from the damage of the day and preparing for a new one.
Are You Losing Sleep?
How much sleep do you need to support good brain health? Researchers believe that seven to nine hours a night are ideal for most people. However, quality is as important as quantity. Daytime naps are not as effective in supporting good brain health as long periods of sleep at night. Having lights or noises in your sleep environment, for example, can cause you to spend more time in light sleep than in restorative deep sleep. In addition, people appear to sleep most effectively when they go to bed and rise at approximately the same times every day. The key to remaining healthy is not just getting sleep, but keeping your circadian rhythm on a predictable schedule.
Alzheimer's disease is currently incurable, which means that prevention and early detection are key to reducing its effects on our society. Keeping a healthy circadian rhythm may prevent this disease or at least delay its onset. In addition, people with sleep disorders may benefit from early testing and treatment. Keeping a healthy circadian rhythm is key to feeling sharp and alert both tomorrow morning and for the rest of your life.