Hope is restored to the millions that suffer from depression as new research reveals light therapy is highly effective—even more so than Prozac—in treating non-seasonal major depression.
According to the World Health Organization (WHO), depression is a common mental disorder that affects an estimated 350 million people globally. It is also the leading cause of disability worldwide. Those affected by depression suffer greatly and can have a poor quality of life as their ability to function at work, school and within their family is negatively affected.
Depression can lead to suicide, which is the second leading cause of death in those between the ages of 15 to 29. Every year, over 800,000 lives are lost as a result of suicide. There has been a dire need for the discovery of a new, effective treatment for major depression, as medications are only effective in treating depression in 60 percent of cases.
A Previous Link Between Light Therapy and Depression
The link between light therapy and antidepressant effects in those with non-seasonal major depression began as early as the 1970s. However, the rapid and dramatic improvement seen in patients with seasonal affective disorder (SAD) when using light therapy caused the use of light therapy for SAD to quickly gain attention. At the same time, the discovery of the effectiveness of light therapy in treating nonseasonal major depression was delayed.
The symptoms of SAD are thought to be related to the lack of exposure to full-spectrum natural light in the winter months and have been successfully treated with bright light therapy. Noted light therapy and SAD expert Raymond Lam, MD at the University of British Columbia in Vancouver, Canada notes that he has studied bright light therapy in the treatment of winter depression for a long time, but it was always thought that non-seasonal depression was different than winter depression.
New Research Suggests Light Therapy is a Highly-Effective Treatment Method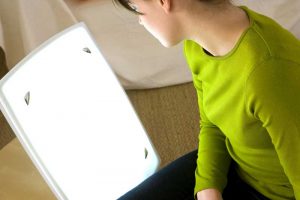 The results of the first placebo-controlled trial to show that light therapy is effective for the treatment of depression not related to seasonal affective disorder were published recently in JAMA Psychiatry.
Expert Raymond Lam and his professional colleagues followed 122 patients who were classified as being severely depressed to evaluate the relationship between light therapy and mood. According to Medscape, the patients all had a score of 20 or higher on the Hamilton Depression Rating Scale at baseline, which is indicative of severe depression. At the beginning of the study (week zero), the mean Montgomery-Asberg Depression Rating Scale (MADRS) was approximately 22 in all treatment groups.
These 122 patients were divided into the following four treatment groups, with approximately 30 patients in each group. The groups received treatment as follows:
The use of light therapy alone for 30 minutes each day.
The use of a placebo device providing no full-spectrum lighting.
The combination of light therapy and Fluoxetine (Prozac) 20 mg each day.
The combination of a placebo device and placebo medication.
The study groups underwent assigned treatment for eight weeks. Light therapy consisted of exposure to a full-spectrum fluorescent light box for 30 minutes daily, as soon as possible after awakening.
At the end of this eight-week study, patients who received the combination of bright light therapy and fluoxetine showed the greatest changes in the mean MADRS score from baseline. Also, it was found that the use of light therapy alone was more effective in treating these patients than fluoxetine alone, also evidenced by a greater change in the mean MADRS score.
The number needed to treat (NNT) is useful in clinical studies as it helps to identify the proportion of patients that are likely to have treatment-specific effects. The best NNT is one, which means all participants experienced benefits with treatment and none did with the control. In this study, the NNT to achieve a response using the combination approach was only 2.4 when compared with the placebo, and the NNT to achieve remission using the combination approach was 3.5 when compared with the placebo.
How Does Light Therapy Help Depression?
Light therapy is effective as an antidepressant as it is thought to restore proper melatonin secretion and synthesis by the pineal gland, which allows re-establishment of the normal rhythm of hormone secretions that occurs daily in relation to a properly-functioning circadian rhythm.
Given the statistics associated with depression and the fact that treatment is often difficult as no one therapy is successful for all patients, the discovery of bright light therapy in treating major depression has the potential to be life-changing for many.
Dr. Raymond Lam describes these results as very exciting, as light therapy is inexpensive, easily accessible and has few side effects. He further states that patients can easily use light therapy in combination with other treatments such as psychotherapy and antidepressants.