There is an increasing amount of interest in light therapy and especially in light therapy alarm clocks. Recent studies in chronobiology and human behavior have shown that simple exposure to the right type of light at the right times of day can affect mood, sleeping habits and even overall health.
The Science Behind Light Therapy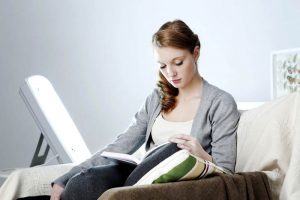 People can develop a variety of health problems as a result of not getting the right kind of light or not getting it at the right times. Sensors in your eyes register strong light in certain wavelengths and pass this signal to one's brain. This gives your brain cues about whether to make hormones associated with wakefulness or those associated with sleep.
Studies in circadian biology have shown that the light and dark cycles that regulate the circadian rhythm are important for more than just sleep and wakefulness. People who are not getting the right balance of light may develop depression, anxiety and even heart problems. In addition, a lack of sleep can increase the chances of vehicle accidents and other deadly events. Light therapy, also called phototherapy, can improve lives and keep people safer. Light therapy in the time period just before waking has been found to be especially helpful.
How Can Light Therapy Improve My Life?
Light therapy is used to treat a variety of health issues. Some people suffer from different types of circadian sleep disorders, such as shift work syndrome or delayed sleep phase disorder. In these disorders, the circadian rhythm does not support sleep and wakefulness at times when modern life demands them. The effects shift work has on your circadian rhythm can be mitigated by a combination of a melatonin supplement taken before you sleep to replicate the natural sleep-wake distribution of the hormone as well as bright light therapy when you awake to simulate the rising of the sun.
In addition, light therapy is used to treat seasonal affective disorder. Seasonal affective disorder, or SAD, is caused by low levels of certain wavelengths of light in cold weather months. It is treated by exposing the person to the right amounts of light during the day, so their hormones can self-regulate. Light therapy alarm clocks have been found to be especially helpful with both seasonal affective disorder and circadian sleep disorder. These devices begin the day with bright light that induces the production of hormones that make wakefulness and a positive mood possible.
How Light Therapy Alarm Clocks Work
There are a variety of kinds of light therapy alarm clocks, each with their own set of features and benefits. All of them operate on the same principle: Waking is easier and more natural when the brain is primed by exposure to light. Our ancestors woke with natural sunlight, but modern life often demands having a less optimal schedule. Light therapy alarm clocks simulate sunrise to allow the brain to begin making the hormones associated with wakefulness.
Philips Wake-up Light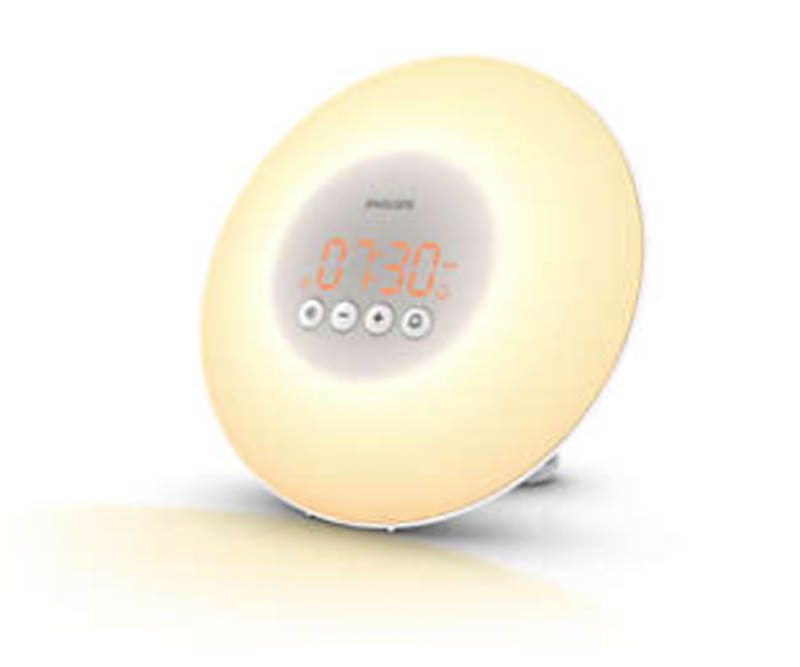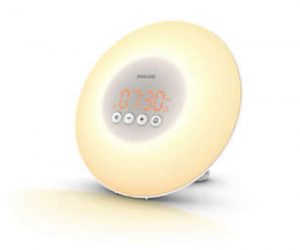 The Philips Wake-up Light is a popular light therapy alarm clock for several reasons. It begins lighting up before the alarm goes off, simulating dawn. In addition, it has a dusk simulator that slowly dims the light, which is a helpful feature for people who work shift work. It has 20 brightness settings and can have light begin 20-40 minutes before waking, making it a more customizable choice. People who use this can also add natural sounds, such as birds chirping, or FM radio.
BioBrite SunRise Clock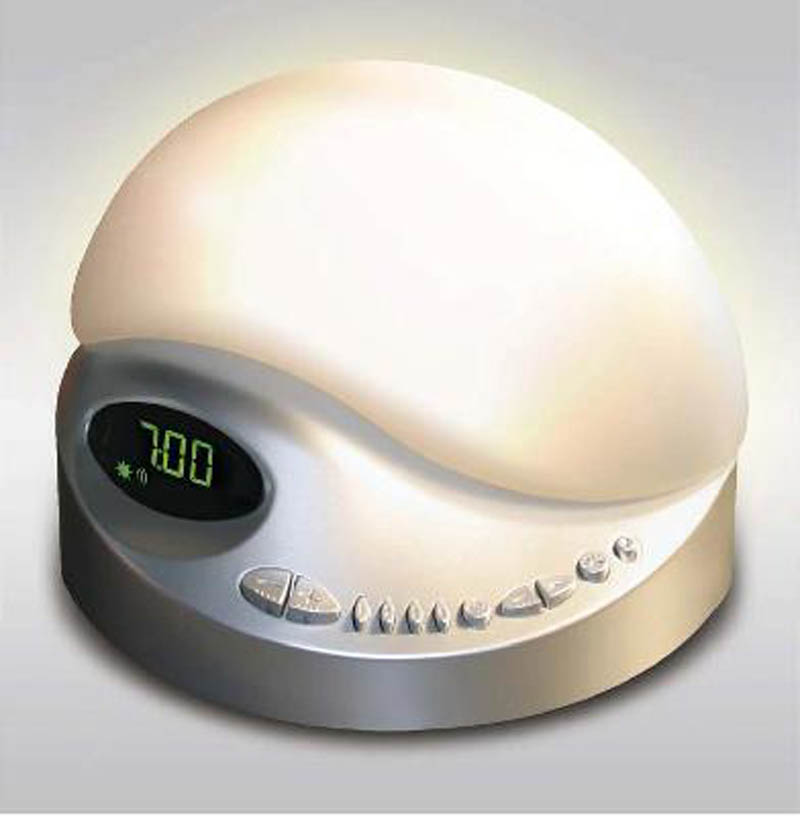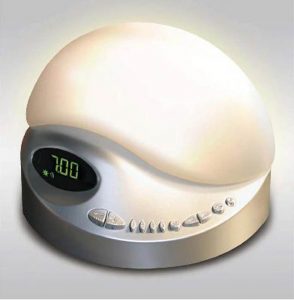 The BioBrite SunRise Clock works in a similar manner to the Philips and also offers both dawn and dusk simulation. There is no option for natural noise, which may be a drawback for some, but there is a wider range of cycle length, from 15 to 90 minutes. In addition, it has power failure back up, which is important to people who live in areas where outages are common.
Lightphoria 10,000LUX Energy Light Lamp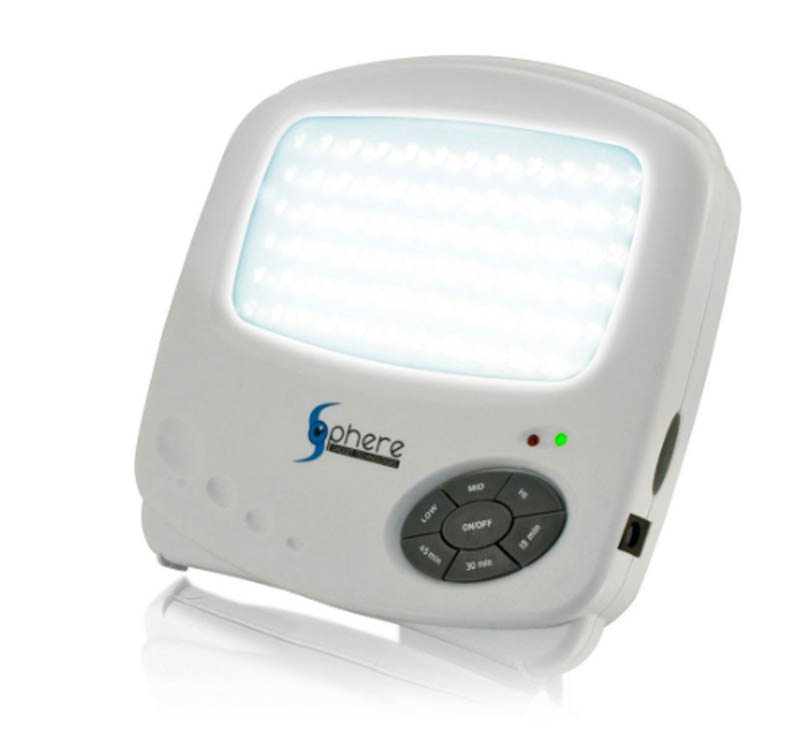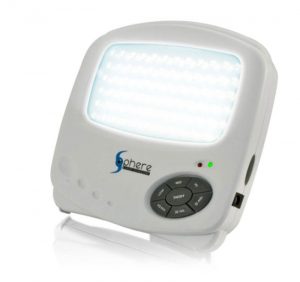 This light box does not have an alarm clock feature; however, it is recommended for daily light therapy. There are a few reasons that it makes a great phototherapy lamp. People can choose the intensity level of the light, from 5,000 to 10,000LUX, according to the amount of therapy they need and also adjust for how their eyes react to bright light. In addition, the Lightphoria lamp has a timer, so it can be used along with a separate alarm clock in the case of someone who wishes to have both dawn simulation and daily bright light therapy. It is highly portable and more compact than the previous two light therapy devices mentioned, which makes it a great choice for people who travel.
Choosing the Right Light Therapy
The above-mentioned alarm clocks and light boxes are high-quality choices. In addition, these manufacturers make other light therapy products that can be useful. Before selecting a light therapy box or alarm clock, it is important to consider your needs. Do you prefer natural morning sounds with the light? Is it imperative to have a wider range of custom options? Do you travel often? Do you need to plan for power outages? There are a wide range of light therapy alarm clocks and other devices made by these companies, so there is sure to be at least one that perfectly meets any person's needs and preferences.
Light therapy, including dawn simulation, encourages a healthy hormonal structure that allows for deep sleep, complete alertness while awake and fewer mood swings. While modern life often is not conducive to a healthy circadian rhythm, there are a variety of devices that can help people to regulate their internal clocks and achieve better health.