Could maintaining a healthy circadian rhythm help you to fend off the effects of growing older? New research has discovered a group of rhythmic genes related to aging.
Many people try to stave off aging with plastic surgery and other treatments aimed at changing the external signs. However, aging is a process that affects every cell in our bodies. While our society is always introducing new creams and therapies, it appears that keeping a healthy circadian rhythm is key to slowing the ravages of time. One newly discovered group of genes related to aging in particular appears to be a missing link.
What Causes Aging?
While we are all eager to grow wiser, getting wrinkles and losing our youthful vigor are things many wish to avoid. Scientists have spent decades looking into the root causes of aging and they found several answers. On a cellular level, aging appears to be caused by cumulative damage to our cells and their DNA. As we go about our days, we encounter a variety of sources of damage. These may come from exposures in our environment, but metabolites from our own cells are a major cause as well. In fact, oxygen is one of the major sources of damage to DNA even though our cells need it to survive.
Our cells have a variety of repair mechanisms to keep them functioning even in the face of constant exposure to damaging elements. However, over time these repair mechanisms begin to break down. The result is that damage to DNA is not repaired and our cells gradually become less functional. This causes the many symptoms associated with aging, from skin that contains less collagen and thus forms wrinkles, to brains that need more time to recall information.
Are There Genes Related to Aging?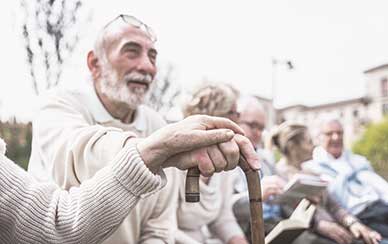 Researchers have long noted that the circadian rhythm appears to be linked to aging. According to a recent study, this may be due to the role of a group of circadian rhythm genes responding to aged or damaged cells. This group of genes, called "late life cycler" genes, is responsible for maintaining our internal clocks but is also activated in response to intense stress or aging. These genes manage a variety of internal clocks related to sleep-wake cycles, feeding times, cell repair and other activities that occur according to our daily rhythms.
These genes are active not just in our brains, where the master circadian clock appears to be located, but in peripheral organs such as the liver as well. They also appear to contribute to the changes we associate with aging. This group, which is comprised of around 25 separate genes, is thought to act to protect our brain and nervous system but also can indirectly cause aging in a variety of ways, especially in how they deal with damaged proteins. When we place our bodies under stress, these genes are activated to maintain internal clocks and they also can accelerate aging.
Aging and the Circadian Rhythm
This is the first study to identify exact genes related to aging, but not the first to find the link between circadian rhythm and aging. Many studies have noted that over time, we see not just aging but significant changes in our sleep-wake cycle. Older people sleep less and have lower quality sleep while also seeing changes in memory and other changes we associate with our golden years. At the same time, many diseases associated with aging, such as heart disease, have been linked by chronobiology research to working late shifts and otherwise interfering with a healthy circadian rhythm.
None of us will live forever, but most people wish to live as long and healthy a life as possible. Getting enough high-quality sleep and taking care to maintain a healthy circadian rhythm and decrease stress appears to be a very important way of maintaining both youth and good health. If you are looking for a good excuse to sleep in a little later or take a well-deserved afternoon nap, these links between genes related to aging and circadian rhythm may be just the reason you seek.