Understanding the circadian rhythm of the organism behind sleeping sickness offers insight into human clocks as well as hope for treatment of this serious disease.
Can a parasite change your circadian rhythm? A parasite from the genus Trypanosoma is known to do so, causing a disease known as sleeping sickness. While this disease is unknown in Western countries, understanding it offers insight into our own circadian rhythm. In addition, better knowledge of this parasite can lead to more effect treatment for the hundreds of thousands of people who suffer from its debilitating effects.
What is Sleeping Sickness?
Many people in the West have not heard of sleeping sickness, but it is a serious threat to many living in developing nations. While the incidence of this disease is gradually going down, it remains a serious problem. People who catch sleeping sickness, which is carried by tsetse flies in rural areas of many African nations, suffer a wide range of debilitating symptoms and may even die without treatment.
People who are infected with sleeping sickness may not even be aware of it until the illness has progressed to dangerous levels. The parasite multiplies in their bodies and infects a variety of tissues before they enter the first stage, called the haemolymphatic stage. The host then begins to suffer from joint pains, headaches and fever. The illness then progresses to the nervous system in the meningoencephalitic stage. These people show confusion, odd sleeping habits, loss of coordination and other neurological symptoms. This phase is often fatal due to the seriousness of brain infections.
The Circadian Rhythm of Parasites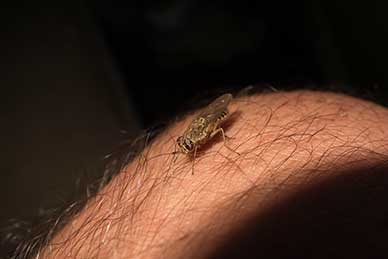 All living things have a circadian rhythm, including the trypanosome responsible for sleeping sickness. While this parasite lives exclusively in hosts and is never exposed to sunlight or other elements of nature, it gets cues from the circadian rhythm of its hosts as well as its internal clocks. Chronobiology researchers set out to find exactly what winds up a trypanosome's internal clocks and the answer was surprising: temperature. They showed changes in which genes are transcribed according to a timing set by the temperature of their host. In addition, they pass this information about time onto their daughter parasites. In fact, maintaining a circadian rhythm even in the absence of light cues was probably a very important advantage in the evolution of this parasite, as it can attack host tissues when they are most vulnerable.
How can this knowledge be used to fight this disease? These parasites appear to be the most sensitive to medications used to eradicate them in the morning. This is especially helpful because many people do not seek treatment until the disease is so far advanced that it can be very difficult to cure. It is a sweet irony that using its own internal clocks against it may treat a disease known to affect the human circadian rhythm. The practice of chronopharmacology, or timing treatments so they can be more effective, appears to be especially important with this disease.
How Can a Trypanosome Alter Your Circadian Rhythm?
Sleeping sickness causes a variety of effects, but its effects on circadian rhythm are some of the most destructive and most interesting. As the disease progresses, people begin to sleep during the days and suffer from insomnia at night. This occurs after the parasite has infected brain tissues. The parasite attacks parts of the brain responsible for maintaining temperature and setting internal clocks. The result is that people begin to sleep and wake at odd times. Their entire internal rhythm changes, including their core body temperature. This, in turn, reinforces the parasite's circadian clocks.
It appears that our circadian rhythms can be influenced by a variety of factors, from sunlight to metabolic oscillations to even a tiny but destructive parasite. While most readers will never have to worry about catching this illness, this research presents new options for treating sleeping sickness using chronopharmacology. Hundreds of thousands of people may soon be able to sleep more soundly.