With 2020 behind us, the world is looking eagerly ahead to 2021 as a new year of promise and hope. For many, the new year also brings the proverbial list of New Year's resolutions. While many New Year's resolutions involve making healthier lifestyle choices, the health of the circadian rhythm is usually overlooked. Fortunately, you can promote a healthy circadian rhythm in 2021 by making just a few changes to your daily routine.
Promoting a Healthy Circadian Rhythm in 2021
While some of these changes may be more difficult to make than others, essentially, they are all intended to help the circadian rhythm to function more efficiently by ensuring your brain knows when it's morning and time to be alert versus evening and time to relax. Following are seven tips to help you get your circadian rhythm back on track in 2021.
1. Expose Your Eyes to Light and Dark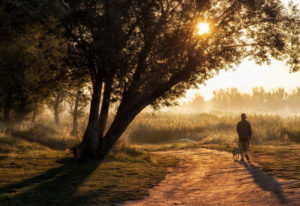 The most important way to ensure your circadian rhythm is functioning properly is to help it acclimate to the various times of the day. You can start by taking a walk as soon as you wake up in the morning. It doesn't have to be a long walk, but it should be done in an open area where you'll be exposed to sunlight. In the evening, take another short walk to help your brain adjust to the darkness.
2. Modify Your Sleeping Environment
If your bedroom isn't conducive to rest, you won't sleep well at night. As a result, you may be more prone to taking naps, which will throw off your entire sleep schedule. To correct this situation, make sure your bedroom is as dark as possible when you go to bed. Purchasing heavy curtains or wearing a sleep mask if there's ambient light seeping into your bedroom at night can also help ensure adequate melatonin production and a good night's sleep.
3. Eat Melatonin-Rich Snacks
As a rule, you shouldn't eat anything for the last few hours before your bedtime. In particular, it's important to avoid high-carb foods since these foods can interfere with the production of the sleep hormone melatonin. However, if you're really hungry or feel restless, you can snack on natural foods that provide a high concentration of melatonin. Milk is one such food, which is why the old tradition of drinking warm milk before bed still holds true. Additionally, nuts, goji berries and tart cherries are also excellent sources of melatonin.
4. Create a Steady Routine
You can also improve the functioning of your circadian rhythm by creating and abiding by a strict sleep schedule. In essence, you'll be training your brain to know when it's time for rest, so this will take time. You should choose a bedtime that you can stick to every day of the week, including weekends. Going to bed later on the weekends will throw off your schedule and prevent your brain from adjusting to the routine.
5. Avoid Stimulants in the Evening
If you drink coffee, tea or soda with any regularity, you should try to limit your consumption of these beverages in the evening hours. Caffeine will negate the effects melatonin has on the brain, preventing you from falling asleep as you go to bed. You should stop drinking caffeinated beverages at least six hours before your bedtime to give the stimulant time to run through your system. If you feel the need to drink something other than water closer to your bedtime, look for a caffeine-free option.
6. Create a Bedtime Ritual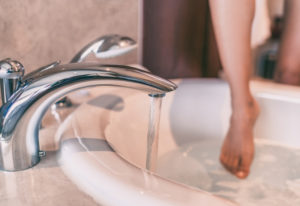 You can reinforce your sleep schedule by creating a relaxation ritual that you follow every night before going to bed. Take a bath and listen to relaxing music, light an aromatherapy candle, practice yoga or meditate. The activity you choose is up to you, but it should be relaxing, and it should be something you enjoy doing. By following this routine every night, you'll be training your mind and body to know when it's time to relax. Your brain will stop producing hormones that promote energy and wakefulness at this time and begin the process of encouraging sleepiness.
7. Put Away Your Electronics
Research has found that electronic devices, especially cell phones and tablets, disrupt the circadian rhythm by producing a bluish light. This light tricks the brain into thinking it's daylight and keeps it from producing melatonin. As a result, it will take longer to fall asleep at night. It's a good rule of thumb to stop using your electronic devices at least one hour before your bedtime. This will help your circadian rhythm adjust to the darkness of night, which means you'll be better prepared for a full night of rest.