Today, an increasing number of people rely on airline travel to go on vacations, work trips and more. In fact, studies estimate that more than 849 million people fly every year in the United States alone, with numbers reaching a staggering 4.6 billion yearly worldwide. Although this unprecedented mobility has obvious benefits, it also has some drawbacks. While flying is convenient and can often be affordable, it can wreak havoc on our bodies. Humans were not meant to move across time zones in just a few hours' time. As a result, jet lag, the phenomenon in which people suffer negative consequences due to changes in the circadian rhythm, is becoming a major health problem.
Although shifting your internal clocks forward or backward in a short period of time can be challenging, it is necessary in order to get the most out of your trip and to remain healthy. Adjusting your circadian rhythm often begins with getting some sleep while en route to your new time zone. However, many people struggle to figure out just how to sleep on a plane.
Why Sleep on a Plane?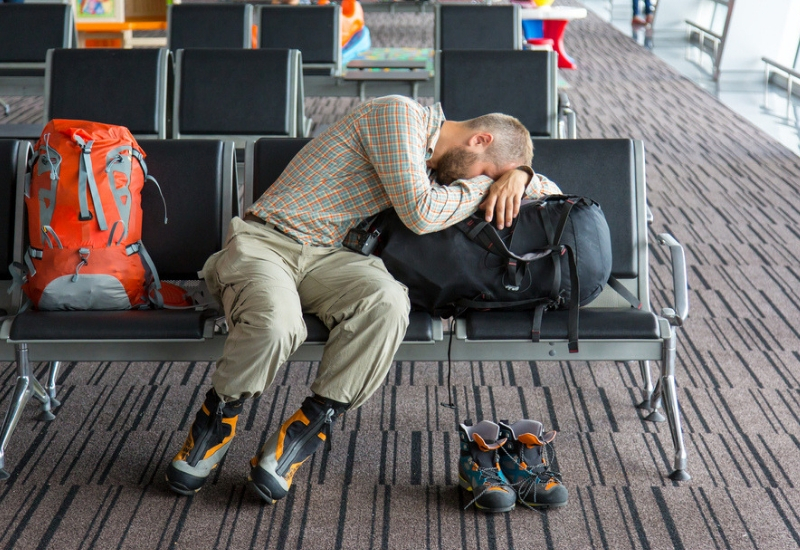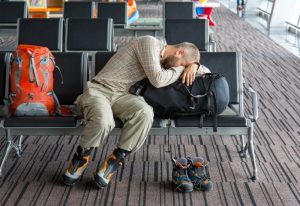 One of the most effective tips for dealing with jet lag is to try to prevent it in the first place. Experts recommend that those planning to travel across time zones move their bedtime and waking time closer to that of their destination for several days before leaving. Because flights are often late at night or early in the morning, this often means that it is necessary to sleep en route.
In addition, traveling brings a wide range of physical and mental stresses. These take a toll on the body, requiring an increased amount of sleep in order to feel and perform at your personal best. Sleep is important, especially with the added stress of traveling. Getting sleep on the plane is often the first step toward avoiding jet lag and the other sleep issues that come with travel.
Below, we've compiled four of the best ways to maximize your chances of getting some shut-eye during your next long flight.
1. Choose the right tickets.
Most of us cannot afford one of the lie-flat seats in first class. However, there are ways to choose a more comfortable seat for flying. When possible, pick a seat nearest the window. This will help you to avoid having to get up repeatedly when your co-travelers wish to access the aisle. A window seat will also give you a side wall against which to rest your head. Plan on keeping the shade closed to keep out the sunlight.
In addition, you should avoid noisier seats in the plane. These include those over the bulkhead and near the restroom. Avoid exit aisles, as these seats often do not recline.
If you believe you will sleep best at night, get red-eye tickets. This way, you can get off the plane well-rested and immediately begin living on your new schedule.
2. Dress for sleep success.
There was a time when people dressed up to travel. In modern times, however, experts recommend wearing the most comfortable clothing possible. Dress in soft clothing with plenty of layers so you can maintain a comfortable temperature. Bring a neck pillow and a throw blanket to set the mood. Many people also benefit from ear plugs or noise-cancelling headphones as well as a sleep mask.
If your flight is more than a few hours long, consider wearing compression stockings. These will lower your chances of developing blood clots while temporarily immobilized.
3. Adjust meal times.
Although often overlooked, adjusting meal times is one of the most powerful ways to give your circadian rhythm a nudge. Several days before your trip, begin eating meals at the same time that you will be eating them at your new destination. Continue doing this through the duration of your flight.
This may necessitate planning ahead and bringing a meal with you. Alternately, it may require skipping whatever snack is being offered by flight attendants. Regardless of when your next meal is planned, have a small healthy snack before getting on the plane. This will ensure hunger pangs don't wake you.
4. Control light exposure.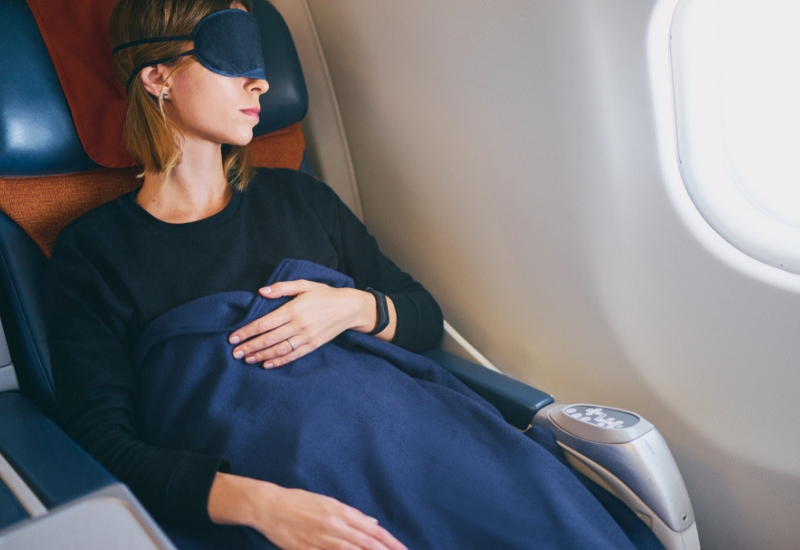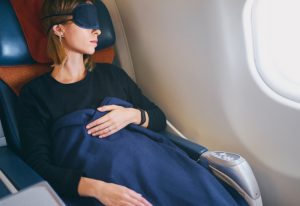 Lighting is a wakefulness cue to your brain, stimulating the release of energizing hormones such as cortisol. Avoiding light is one of the most effective ways to encourage your body to fall asleep.
Turning off screens will reduce the ambient light in your vicinity. In addition, dim the overhead lights. Use a sleep mask if the plane is too bright for sleep. Once you have landed, use the exact opposite approach. Surround yourself with as much natural light as possible to help you wake up.
Although experts do not recommend using alcohol or sleeping pills to fall asleep while traveling, melatonin is a common suggestion. Melatonin is naturally released by your body to help you to fall asleep. A supplement can be very helpful in ensuring you get the rest you need.
These tips will help you to increase your chances of sleeping through a long plane ride. However, there is no guarantee. Ultimately, most people will need a great deal of practice to figure out how they can get the sleep that they need while traveling.