Many people are familiar with the all-too-familiar symptoms associated with jet lag; whether having personally experienced it or not. Although jet lag is most often associated with traveling across time zones, many in the developed world are actually suffering from a very common form of this disorder called "social jet lag," in which our internal biological clocks and our daily schedules are not aligned. New research shows that this circadian disorder can have serious mental and physical consequences. Could you be suffering from social jet lag? If so, there are many natural ways to synchronize your schedule and your circadian rhythm.
What Is Social Jet Lag?
All living things have a circadian rhythm. Humans are diurnal, which means that we generally prefer to be awake during the day while sleeping at night. However, there are huge variations in human sleeping habits. Some of us are night owls, preferring to go to bed and arise late. Some people are the opposite, morning larks with a natural inclination toward "early to bed, early to rise." These variations of sleep/wake preferences are called chronotypes.
Throughout most of human history, these small differences in circadian rhythm were not a huge deal. In modern times, however, people live by external clocks. We have early starting times for work and school; there also are evening activities that can keep us from getting to bed on time. When our lifestyle goes against the natural schedule dictated by our chronotype in a way that interferes with our circadian rhythm, we suffer from social jet lag. This can have a measurable impact on our sleeping habits, psychological wellness and even our long-term health risks.
The Impact of Social Jet Lag on Health
When our work and social lives do not match our natural chronotype, people often begin to maintain two different schedules: one on work days, and one on weekends. This means changing sleeping habits twice a week, creating a perpetual sense of jet lag that can have serious health consequences.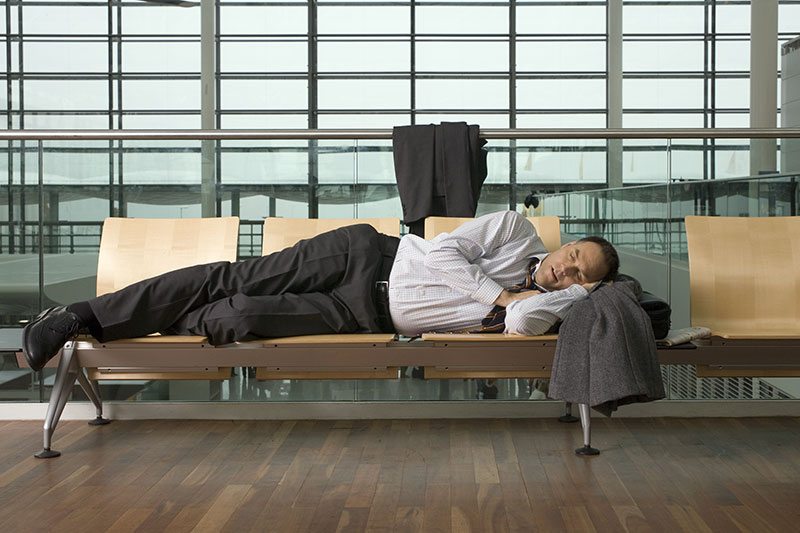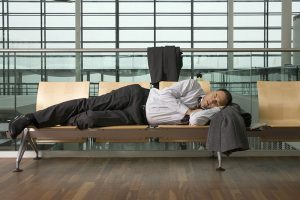 People who suffer from social jet lag suffer from mental fog and may have reductions in memory and cognitive abilities. The effects can be physical as well. In fact, people with social jet lag have three times the rate of obesity. Researchers have also found that people with this disorder have a significantly higher risk of metabolic syndrome and type 2 diabetes, both of which can contribute to lifelong health problems. The wider the disparity between your natural rhythms and the demands of the external world, the higher your risk of chronic health problems.
Do You Have a Chronotype and Lifestyle Mismatch?
Many people suffer from social jet lag without realizing it. If you keep drastically different hours on weekdays and weekends, you likely have it. Another common symptom is needing an alarm clock to wake up every day. The need for an external waking tool indicates that you are rising before your body has finished its natural sleep cycles. Needing naps or feeling sleepy at times throughout the day also indicate that your internal and external clocks are not in sync.
There are physical consequences as well. People with circadian misalignment will often feel tired or be more clumsy. They may get in more accidents in the workplace and on the roads due to lower attention span and exhaustion. People with this disorder also may struggle with short-term memory, finding themselves unable to remember information that was once easy to recall. Depression and mood swings also can be a symptom of social jet lag. The cure for this disorder is simple and yet very complicated for many people: rearranging your life to complement your natural rhythms.
Natural Ways to Keep Your Circadian Clocks Running on Time
If you think you may suffer from social jet lag, there are several ways to get your schedule back on track. First, you should know your natural chronotype. Understanding your natural schedule is essential to accommodating it. Second, you should try as much as possible to allow sleep at the hours when your body needs it. This often means refusing some social activities or advocating for a different work schedule. In addition, you should try to keep the same sleeping and waking hours on your days off. Even a half-hour difference can throw your circadian rhythm off track.
If you cannot change your life to adapt to your biological needs, there are ways to push your internal clocks forward or backward. Putting away screens and taking a melatonin supplement may help night owls to fall asleep earlier. Exposure to bright light in the morning similarly can help people to begin naturally waking at an earlier time.
Social jet lag does not have to be as common as it is. In many cases, a few small changes can make a huge difference in your circadian rhythm and your general well-being. While it can be difficult to synchronize your internal and external clocks, the reward is well worth it: a healthier and happier life with lower risk of serious chronic illness.