Getting enough sleep — both in quantity and in quality — is one of the greatest challenges for many modern people. This is especially true for the elderly. Research has found that our brains change as we age, often in ways that do not support the restful sleep that our seniors need for optimal health.
According to new research on light pollution and sleeping pills, seniors in areas with high levels of light pollution are more likely to need sleeping pill prescriptions to fall and stay asleep. This can have devastating effects on the health of our elderly loved ones.
Light Pollution: A Growing Danger to Public Health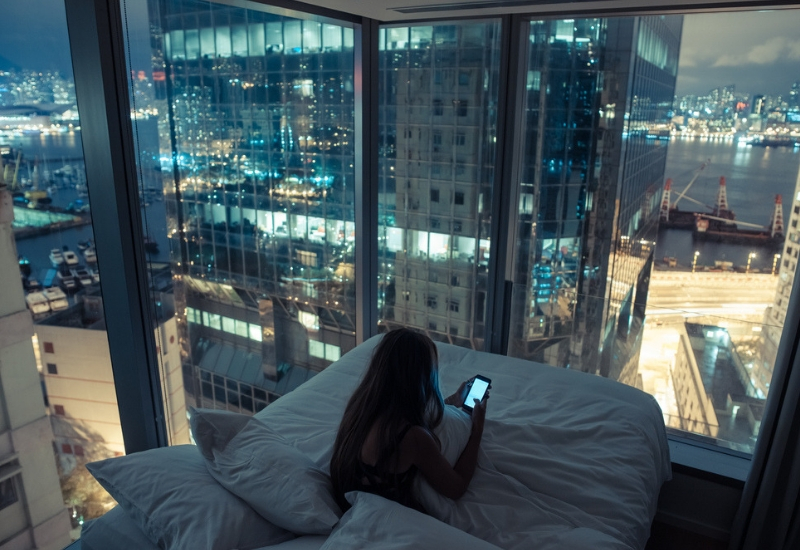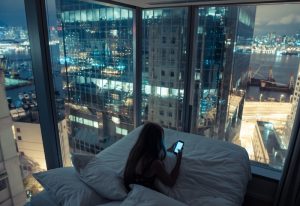 Several previous studies have confirmed the effect of light pollution on sleep as well as its relation to insomnia. Since the first street lamps were installed in the late nineteenth century, Americans have increasingly come to see a well-lit neighborhood as a sign of safety and affluence. In addition, a growing percentage of us live in urban or suburban areas where true dark is rare. The light from street lights, shopping centers, homes and other infrastructure never sleeps — even when we do.
Even on a moonless night, there is a haze of light that, while not perceptible to the naked eye, can have serious effects on our circadian rhythm. In 2009, it as reported that the hazy light from Los Angeles could be seen 200 miles away. This light keeps us from seeing many of the stars in the sky and can also affect our health.
The human brain creates melatonin in response to dark. This hormone is critical not just to deep sleep but to cell repair and other important metabolic processes. Even low levels of ambient light, too dim to be seen, can keep us from producing adequate levels of this sleep hormone. The result is that more people in areas with light pollution suffer from insomnia and other sleep disorders. According to a new study, this may be especially destructive to elderly people, who already struggle to get the rest that they need.
Links Between Light Pollution and Sleeping Pills
A new study looked at the health of more than 50,000 elderly people in South Korea, a country that is similar to the US in having sprawling urban centers as well as rural farmlands. Their health problems and prescriptions, as well as demographic information, were compiled.
It was found that elderly people who lived in areas with high measured levels of light pollution were more likely to have a prescription for the common sleep medications zolpidem (called Ambien in the U.S.) and triazolam. They also were more likely to need more of these drugs and to take them for an extended period of time. Younger people living in rural and urban areas did not show as dramatic a difference in sleep disorders.
This suggests that elderly people in these areas are more likely to suffer from sleep issues when they live in an area with high levels of light pollution. That could be particularly problematic because aged people are already more likely to have insomnia and other sleep disorders.
Sleep Problems in the Elderly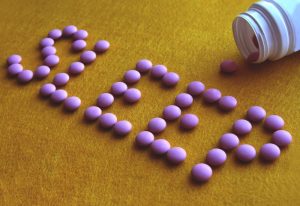 Elderly people are more likely to suffer from a variety of health problems, but sleep can be especially problematic. More than half of all elderly people suffer from insomnia; other sleep disorders are more prevalent in this population as well. This can have devastating effects on their health and mental function, at a time when their abilities are already declining quickly.
As a result, prescriptions of sleeping pills are particularly high in this population. While sleeping pills can help with falling asleep, they can be particularly dangerous for the elderly. Because seniors can't metabolize sleeping pills as quickly as younger populations, it can cause them to feel groggy and have side effects for a much longer period of time.
In addition, elderly people who take sleeping pills are more likely to suffer from memory problems and confusion. They are at higher risk of falls and accidents that can be deadly. Insomnia and light pollution clearly are a problem for elderly people, but sleep medications are a dangerous answer to the issue.
Fighting Light Pollution in Your Home
One powerful way of fighting insomnia in the elderly is to rid the home and bedroom of light pollution that can keep elderly individuals awake at night. There are several ways to accomplish this:
Turn off the lights at night. If lighting is needed for safety, consider using motion-activated lighting.
Use curtains designed to block ambient light.
Advocate for policies in your area that reduce light pollution.
Dim indoor lights and turn off electronics an hour before bedtime.
Consider taking a melatonin supplement to compensate for lower production.
These strategies are important for anyone living in an area with high levels of ambient light. They are especially important for people who are likely to suffer more serious health effects from light pollution, such as the elderly. Although the modern world is not set up to support a healthy circadian rhythm, there are ways to ensure that we each get the sleep that we need for optimal well-being.