While comfort may be the first thing that comes to mind when thinking about the benefits of sleeping in the nude, it's far from the only positive aspect. Researchers have found a number of ways that sleeping naked can actually be beneficial to your health.
Some of those health benefits relate to getting better sleep, which is directly linked to better overall health and well-being. Other nude-sleeping health benefits may be surprising, as they relate to better reproductive health, increased fat burning and healthier skin. All in all, it seems that leaving pajamas and nightgowns in the dresser drawer might be a smart move to promote better sleep and better health.
Sleeping Naked Can Improve Sleep Quality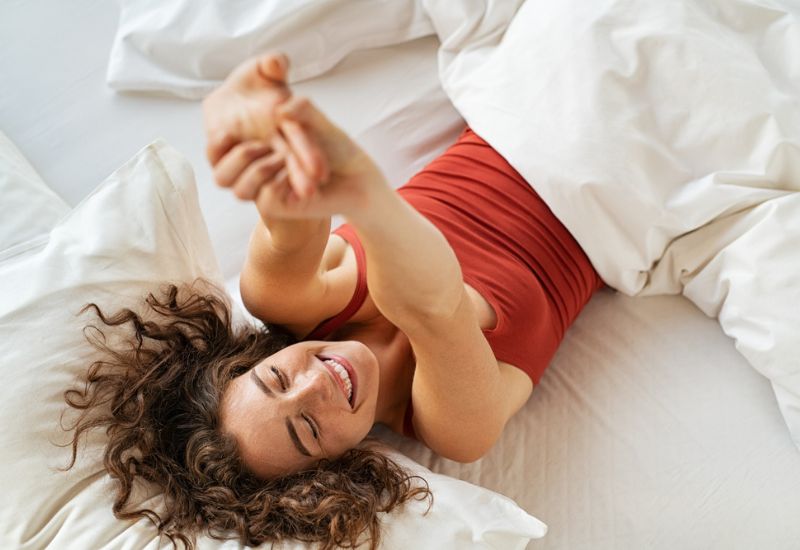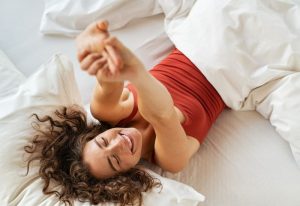 There are two primary ways that sleeping in the nude can help to improve overall sleep quality. First, sleeping nude can help you to fall asleep more quickly. That is because it helps to regulate body temperature while shifting to the lower core temperature that is more conducive to a better night's sleep.
The natural rhythm of body temperature follows a circadian rhythm of higher temperatures during the day and a lower temperature during the night. That dip in body temperature is a signal that the day is coming to an end and the time for sleep is drawing near.
The second way that sleeping in the nude helps improve sleep quality also has to do with temperature. Similar to how being cooler help you to fall asleep faster, it can also help you to stay asleep longer and move through the stages of sleep as you should, without disruption. Too high of a temperature at night can interfere with essential immune system processes that take place during deep sleep by decreasing the amount of time you spend in the deep sleep through the night.
May Help Decrease Heart Disease, Type Two Diabetes Risk
Poor sleep quality has been linked to an increased risk of a number of diseases, including heart disease and type two diabetes. High blood pressure, stroke and heart disease are all more likely in people who do not sleep sufficiently and who report poor quality sleep on a regular basis.
Disruptions in sleep are also linked to the metabolic system disruptions that make developing type two diabetes more likely. As explained by the Centers for Disease Control and Prevention (CDC), even people who already have type two diabetes can benefit from improving their sleep duration and quality because these improvements have been linked to better blood sugar control. Sleeping in the nude is an easy way to contribute to better sleep.
Getting Naked May Burn More Fat, Calories
Part of the potentially reduced heart disease and type two diabetes risk associated with sleeping in the nude may be related to an increase in calorie burning. Naked sleeping can help keep your body temperature down. That encourages the production of brown adipose tissue or brown fat, which breaks down glucose and white fat to produce heat and help regulate body temperature. This can help maintain a healthy body weight and promote healthy, efficient metabolism, including better blood sugar control.
Can Improve Vaginal Health, Male Fertility
Most women are familiar with the warnings against wearing tight jeans and underwear made from fabrics that don't breathe. Sleeping in the nude allows for better air flow, helping to decrease the risk of yeast infections.
Temperature may come into play again in regard to male fertility. Reduced sperm concentration and count are associated with wearing tight underwear. That tight underwear may raise the temperature of the testicles, yielding those lower counts. Cooler testicle temperatures may improve sperm count and concentration. Sleeping naked can help keep the testicles cooler, which may also help to improve sperm mobility.
Can Contribute to Better Mental, Emotional Health
Better sleep is associated with better mental health, one way that sleeping in the nude can benefit mental health. Poor sleep can increase the risk of depression, anxiety and other mental health issues. However, its role in improving sleep quality is not the only way sleeping nude can be beneficial to your mental and emotional health.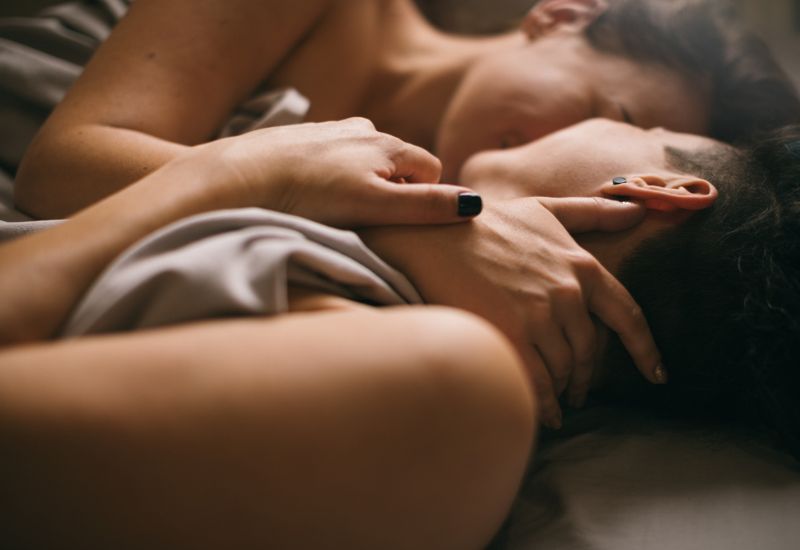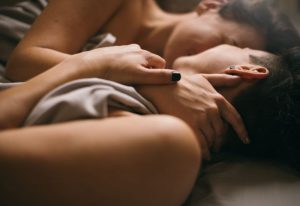 Spending time in the nude, getting familiar and comfortable with your naked self, can improve your self image and self-esteem. Sleeping skin-to-skin naked with your significant other promotes the release of the love hormone, oxytocin, which can increase the sense of attachment, trust and affection you feel for each other.
What's Not to Like?
You'd be hard pressed to find a simpler or easier way to contribute to better sleep. Even better, it costs nothing to try, and skipping the night clothes will reduce your laundry. With the importance of good sleep to your overall health and well-being, it just makes sense to do what you can to improve your sleep.
The more things you can do to improve the quality of your sleep, the better your health is likely to be, both in the short-term and over the long-term.