Eating late at night is very common in the Western world. Many people keep items such as cookies, popcorn or ice cream in their homes in order to satisfy late-night cravings. It is well known that these midnight snacks can be very bad for your waistline, contributing to weight gain and metabolic syndrome due to the additional calories. New research indicates that your tasty late night snack may also interfere with the circadian rhythm and ultimately contribute to premature aging.
The Circadian Rhythm of the Skin
While the brain controls the circadian rhythm of much of our bodies, cells also each have their own internal clocks. Skin is one of the most "independent" groups of cells, with its own internal clocks and timing cues. Skin stem cells reproduce mainly at night, producing fresh skin to replace that which has been worn off the surface. DNA repair happens at set times periodically throughout a 24 hour day. In addition, skin thickness, hydration and other factors also appear to have their own distinctive rhythm.
CLOCK genes are the set of genes responsible for this regeneration. CLOCK genes are responsible for identifying times when an individual's skin is most at risk so damage can be repaired before it becomes too serious or irreparable. When this timing is disrupted, cells cannot repair damage as effectively. Unfortunately, eating at irregular hours appears to negatively impact this internal timing.
Could Eating Late at Night Be Bad for Your Skin?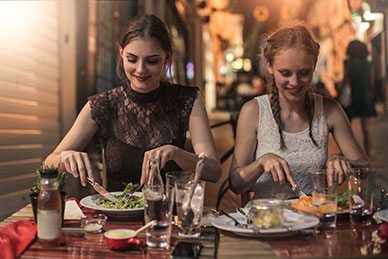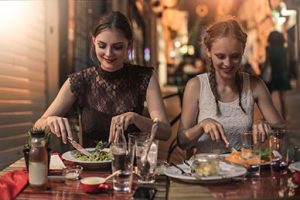 The circadian rhythm of the skin is not just set by light and dark, but by the presence of other cues as well. Whether we are eating or drinking is one of these important cues. Researchers took mice and divided then into groups, one with regular eating times and one with highly irregular meals. These mice were then exposed to ultraviolet light, which is known to be damaging to the skin of both humans and mice. The ones with regular meal times were able to repair from skin damage quickly. The ones that ate irregularly, however, took a longer time to heal and had more residual damage.
When we eat late at night, the circadian rhythm of our skin cells is disrupted. As a result, the release of skin repairing enzymes is delayed and/or decreased. Skin then cannot recover as quickly from UV damage. Over time, this can lead to a faster rate of aging and a much older appearance than one otherwise would have. Eating irregular meals, including that late night snack, may have lifelong consequences.
Does Sleep Keep You Young?
Many prior studies have linked the circadian rhythm to aging. The circadian protein SIRT1 appears to be part of the link between our cyclic internal clocks and the clock of aging. SIRT1 is also involved in stress response and cell recovery, which may be part of how it affects aging. When aging mice are given supplements of this protein, they immediately show better cognitive function, faster healing time and other traits that indicate youthfulness. In other words, SIRT1 turns back the clock.
How can a protein have such a noticeable effect on aging? SIRT1 appears to be responsible for revving up or tuning down metabolism and cell repair according to a person's internal circadian clocks. As we grow older, these clocks begin to fall out of sync. The result is that cell repair and metabolism both fizzle. Replacing the protein that regulates these clocks may be a future fountain of youth, offering hope for a longer and happier life.
Aging Gracefully From the Inside Out
While we cannot yet pop a SIRT1 pill to remain young, there are other natural ways that we can slow aging from the inside. These include:
Get enough sleep. This allows your body to repair tissues and DNA, preventing accumulated damage that can lead to an aged appearance.
Go to bed early. Researchers have found that maintaining a natural sleep wake cycle is as important as the number of hours you sleep. Most people are healthier when they go to bed at dark and rise at dawn.
Eat plenty of antioxidants. These vitamins repair free radical damage that accumulates over the years. If your diet is not rich in fruits and vegetables, consider taking a supplement.
Drink an adequate amount of water. Hydration is essential to maintaining youthful cells and also to flushing toxins out your body.
Eat healthy fats. These provide the building blocks needed for cell repair.
Avoid toxic substances such as caffeine, alcohol and nicotine. These create damage that cells will later have to repair with limited resources.
Although none of us will completely escape aging, there are many natural and healthy ways to delay it. Keeping cognitive function and good health well into one's golden years may soon be possible due to recent research on the root causes of aging and the links between the circadian rhythm and help.