Americans are in more debt than ever before, as millions struggle to pay off student loans, mortgages and credit card balances. However, there is a lesser known debt that plagues our society: sleep debt. According to new research, even a small amount of sleep debt may increase the risk of developing diseases such as diabetes.
Sleep Debt: A Global Epidemic
People all over the world are dealing with difficulties getting the sleep we need. Over the past fifty years, the average sleep duration has decreased by around two hours a night. Whether this is due to lifestyle changes, light pollution or even simple stress, we simply are sleeping less than people in prior generations. In fact, we are sleeping around a quarter less.
Unfortunately, sleep needs have not changed dramatically in the same interval. Most people still need around eight hours of shut-eye every night for optimal health. The amount of time that we need to sleep minus the amount of sleep we actually get is called a sleep debt.
As with other types of debt, this sleep debt can add up quickly and have devastating results. Up to 75 percent of Americans report feeling sleepy during the day. Around one-third of these sleepy adults admit that it interferes with their functioning. According to new research, even a small amount of sleep debt can cause serious health problems as well.
Links Between Disordered Sleep and Diabetes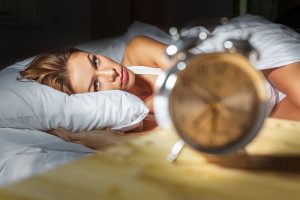 Poor sleep has long been linked to Type 2 diabetes, a disorder of blood glucose metabolism. Our bodies use insulin to "unlock" glucose transporters and let blood sugar into our cells, where it can be used as energy. In Type 2 diabetes, people become insulin-resistant, which means that their cells no longer respond to insulin. Without functioning glucose receptors, blood sugar remains in our bloodstream rather than fueling our activities. The result is that people with diabetes can end with excessive blood sugar creating wear and tear on delicate blood vessels even as their cells starve for energy.
Type 2 diabetes can have devastating effects on health. Unfortunately, insomnia and other common sleep disorders can increase the chance of developing this serious disease. When we do not get enough sleep, our bodies secrete more cortisol, a stress hormone that helps to keep us awake and alert. Cortisol, unfortunately, changes the way we process insulin and blood sugar. Chronically high cortisol can eventually increase diabetes risk.
But how much sleep debt is enough to have long term health effects? The answer may be smaller than many realize. According to new research, even six hours of sleep debt can be enough to increase diabetes risk. Researchers took two groups of mice and kept one group awake for six hours longer than normal. These mice had immediate effects of higher blood sugar. However, their bodies already showed signs of long-term damage. They had higher levels of triglycerides, a type of lipid that can cause heart disease and contribute to diabetes. In addition, they had high levels of enzymes associated with liver damage. This is significant because the liver is important in blood sugar regulation.
Losing Sleep Over Diabetes
Being diagnosed with a serious chronic illness is enough to make many people toss and turn at night. However, diabetes also appears to affect sleep in a variety of physiological ways. It can increase the risk of sleep apnea, a disorder in which people stop breathing at night when they are asleep. It also can increase the incidence of restless leg syndrome as well as other painful syndromes that keep people awake at night.
Sleeplessness appears to contribute to diabetes, which in turn can make it more difficult to get the rest you need. The end result can be an endless downward spiral in which blood sugar levels and sleep debt both increase over time, leading to a wide variety of negative physical effects.
Breaking the Cycle
Sleep debt affects health, and health affects sleep. How are modern people to break the cycle and get back on the path to health? Experts recommend relaxation exercises before bed, but good sleep hygiene appears to be the most important factor. You can improve your sleep hygiene by making a few simple changes, such as:
Have a set bedtime routine that is relaxing.
Go to bed and wake up at the same time every day, even on weekends and vacations.
Avoid using substances such as alcohol, caffeine, and nicotine in the hours before bed.
Keep your bedroom for sleep and sex only, with no television, reading, or screen time.
Banish sources of light such as night lights, televisions and windows that allow ambient light inside.
These habits, while seemingly small, are important in establishing a stable circadian rhythm. Even a few simple changes such as these can make it easier to get the sleep you need to be both rested and healthy. Although it can be difficult for modern people to put away smartphones and the stresses of the day, our health depends on it.