While some people may have a genetic predisposition to be more active in the evening and have later bedtimes, not everyone who habitually goes to bed late is a night owl. Researchers have found that for many people, sleep procrastination is driving their late nights.
Understanding Sleep Procrastination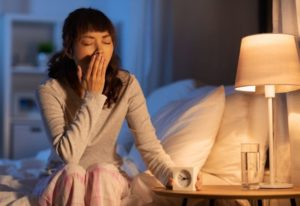 As defined in the Netherlands by Utrecht University Department of Clinical and Health Psychology researchers in 2014, sleep procrastination refers to not going to bed at the planned time or at an hour that allows for sufficient sleep, without an external reason or situation preventing it. This phenomenon often occurs despite recognition of the negative consequences.
Initially studied as sort of a health-related offshoot of general procrastination, bedtime procrastination has garnered more attention in recent years. That may, in part, be due to an increasing awareness in the scientific and medical communities regarding the importance of sleep to physical health and mental well-being. Another contributing factor to the greater interest in procrastinating sleep may be a recognition of the myriad ways the busy modern lifestyle makes it easy to develop a habit of putting off sleep.
Why Does Sleep Procrastination Occur?
Some researchers have found that people who tend to be procrastinators in general are more likely to find themselves also putting off sleep. There are studies that connect lower levels of impulse control to an increased risk of developing a pattern of sleep procrastination. Despite knowing that they'll suffer the consequences of poor sleep the next day, those with less impulse control are less likely to resist the urge to watch that next episode, spend a few more minutes scrolling through their social media accounts or whatever it is that they're doing instead of going on to bed. However, sometimes, the reasons for delaying sleep are a bit more complex than a lack of impulse control or habitual procrastination.
For busy working parents, there can be very little available personal time in a day. Modern technologies make it all too easy to fall into the habit of spending time watching videos, reading or doing other "personal time" sorts of things after the kids are in bed and the tasks of the day are done. In these cases, the period of time between when they should go to bed and actually do go to bed may be the only uninterrupted free time or alone time they have. Indeed, that can make giving up sleep procrastination difficult to do on a psychological level, despite the negative consequences many experience, such as having trouble getting up in the morning and feeling tired during the day.
Some researchers distinguish between putting off going to bed and putting off going to sleep once a person is in bed, such as by using a mobile phone to send texts, surf the web or watch videos. According to a study done at the School of Psychology at University of Minho in Portugal, there may be gender differences whether a person puts off bedtime or puts off going to sleep when actually in bed. That study showed that males were more likely to engage in putting off sleep while in bed. The researchers theorized that there may also be a link to a male tendency toward lower impulse control.
Developing Better Habits Helps
The University of Minho study also made a connection between sleep procrastination and the timing of the evening meal. Those with later evening meal times were more likely to procrastinate bedtimes. This makes logical sense. It also plays into how to correct the habitual putting off of bedtime. Sleep and wake times are connected to the circadian rhythm, as are the timing of meals and the timing of light exposure.
Working to improve sleep hygiene can help overcome the habit of procrastinating sleep. Those struggling with general procrastination tendencies or poor impulse control may have to work a bit harder at achieving better sleep hygiene, but it can be done. Set a schedule for sleeping and waking, allowing for seven to nine hours of sleep plus one hour for a winding down and preparing for sleep routine. Stick to that schedule, even on your days off and weekends. Schedule your meals as well, getting most of your nutrition earlier in the day and eating lightly in the evening.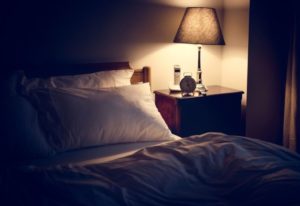 Make your sleeping area as comfortable as possible. Keep televisions, mobile phones and other electronic devices out of the bedroom or, at the very least, out of your bed. Avoid bright lights in the two hours before bed. Increase your morning light exposure and be sure to be physically active enough. Get that activity in the earlier part of the day and avoid working out in the evening. All of these things will promote better sleep hygiene and a healthier circadian rhythm while helping to break the routines associated with procrastinating sleep.
Make Time for You
Address the issue of personal downtime in a way that doesn't encourage sleep procrastination. Schedule a bit of free time for yourself every day, even if you have to set something else aside or delegate it. It's not an indulgence – it's something you need for your own well-being and it may encourage better sleep, which can translate into better health.