The late night snack has become a Western tradition. Many people reach for a bite to eat before heading to bed at night—often something sweet. In addition, modern life often requires that workers eat dinner late at night after a long day at jobs, school and on the freeways. The result is that eating late at night is extremely common, practiced perhaps by a majority of people. However, a new study suggests that late night eating can have serious health consequences, contributing to diabetes, heart disease and other serious illnesses.
New Links Between Late Night Eating and Disease
Why do people crave food, especially unhealthy food, late at night? Experts suggest that people are primed to eat these foods late at night as this practice allowed ancient humans to store calories more efficiently. However, most modern people do not need to store more calories as fat. Our circadian rhythms are not primed to digest and use nutrients late at night as they are during the day. Researchers looked at the eating habits of people with chronic illnesses such as diabetes and heart disease as well as those without these health issues. People who have these diseases are far more likely to be late night snackers. In fact, eating at night appears to be a potential risk factor for these diseases.
The exact reasons for this connection are not known. However, there are a few hints. Late night snackers have been shown to gain weight more easily. This is a phenomenon that is seen even in lab animals. In addition, people who eat later at night have significantly higher triglycerides, which have been linked to both Type 2 diabetes and heart disease.
Triglycerides and Chronic Disease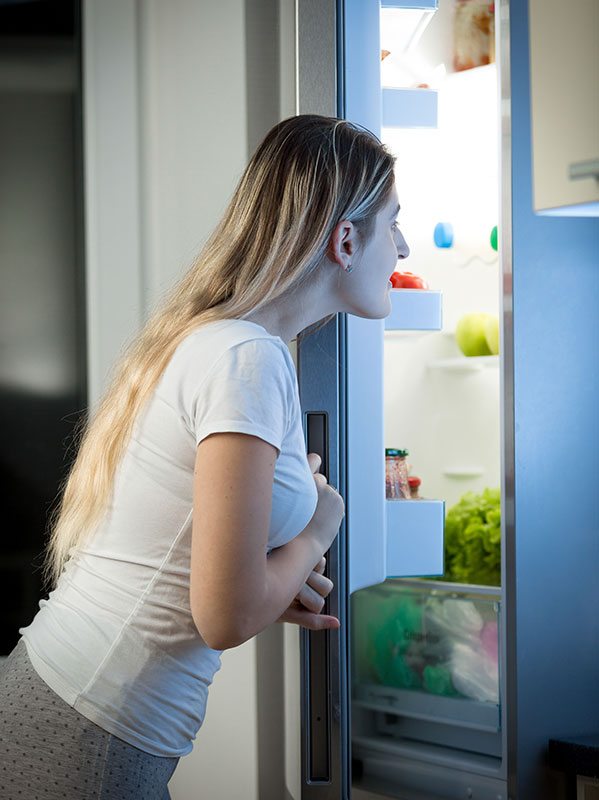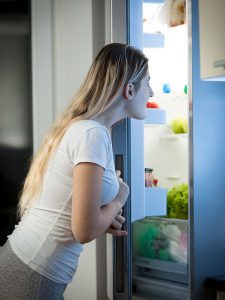 High triglycerides have been shown in numerous studies to contribute to a variety of negative health effects. This lipid is naturally present in the bloodstream and serves as a source of energy in moderation. Cells can take in these lipids and convert them to usable energy in a process known as beta-oxidation. However, in excess triglycerides can be destructive to blood vessels in a variety of ways. They are believed to contribute to a variety of negative health problems including metabolic syndrome, a disorder that is linked to both diabetes and heart disease.
Triglycerides can be caused by poor eating habits, obesity and a variety of health behaviors and conditions. While they do not cause any symptoms on their own, their effects can accumulate until serious disease results. Researchers are not sure exactly how this lipid can cause so much damage to the bloodstream. There are theories that triglycerides are linked to higher levels of inflammation, to thicker blood that does not flow as readily through vessels and to higher levels of blood clotting. However, these connections are not clear and have not yet been proven. While there are clear links between high triglycerides and disease, the exact mechanism is unknown.
Prior Research on the Effects of Eating Late at Night
Eating at night does not just affect your risk of developing serious diseases. It also can affect your health in a variety of ways. Eating late at night has been linked to skin aging more quickly due to its effects on the circadian rhythm and thus on DNA repair. In addition, it has been found to disrupt cognition and memory, interfering with even our ability to think clearly. While late night snacking definitely contributes to higher triglycerides, this cannot account for all of the negative effects. Clearly, meal times are affecting our health in a variety of ways.
How Could Late Night Snacks Affect Your Health?
How can late night snacking add to your risk of developing such a wide range of diseases? Its known links to weight gain and higher triglycerides are part of the connection. However, the circadian rhythm appears to be the root cause. Humans are diurnal, which means we have a natural rhythm that includes being active, including eating, during the day while sleeping at night. When we eat late at night, it disrupts our internal clocks. Our bodies use light levels, food intake and other external factors into account as cues to what time it is. Eating at an atypical time can disrupt internal rhythms that control metabolism, cell repair and a variety of processes. Consequently, this can have wide-reaching downstream effects on health.
There is much conflicting research in regard to the exact best times during the day to eat. Another hot debate revolves around whether it is better to eat calories mainly at one particular meal, such as breakfast, or spread evenly throughout the day. However, it is clear that eating late at night is not beneficial either for the circadian rhythm or for a person's general health. Eating during the daylight hours and sleeping at night remains the best choice for maintaining steady internal clocks and optimal whole body health.