Schizophrenia and other related psychotic disorders are serious illnesses associated with symptoms such as hallucinations and delusions and social withdrawal. Many people also suffer from cognitive and functional impairments. Patients with schizophrenia are known to have disturbances in various types of 24-hour body rhythms, including sleep-wake cycles, hormone levels, and gene activity in the brain's prefrontal cortex. However, virtually nothing is known about gene activity in the brain – healthy or not – for cycles shorter than the usual circadian rhythm.
Abnormal 12-Hour Cyclic Gene Activity in the Brains of People With Schizoprenia
Because gene transcript levels cannot be measured in living brains, the new study used time-of-death analysis to look for 12-hour rhythms in gene activity in postmortem brains. They focused on the dorsolateral prefrontal cortex because this region of the brain is associated with cognitive symptoms and other abnormalities in the rhythms of gene expression seen in schizophrenia.
The researchers found numerous genes in the normal dorsolateral prefrontal cortex that exhibit a 12-hour rhythm. Among them, gene activity levels related to the establishment of connections between neurons peaked in the afternoon/night, respectively, while those related to mitochondrial function (and thus cellular energy supply) peaked in the morning/evening.
In contrast, postmortem brains of patients with schizophrenia contained fewer genes with 12-hour activity cycles, and those involved in neural connections were completely absent. Furthermore, although the mitochondria-related genes maintained a 12-hour rhythm, their activity did not peak at the normal times. Whether these abnormal rhythms underlie the behavioral problems in schizophrenia or whether they are due to medication, nicotine use, or sleep disorders should be investigated in future studies.
The researchers note that the human brain exhibits not only circadian (24-hour) rhythms in gene expression, but also 12-hour rhythms in a number of genes important for cell function and nerve cell maintenance. Many of these gene expression rhythms are lost in people with schizophrenia, and there is a dramatic shift in the timing of rhythms in mitochondrial transcripts, which can lead to suboptimal mitochondrial function at those times of the day when cellular energy is needed.
The Risk of Dementia in Schizophrenia is Greatly Increased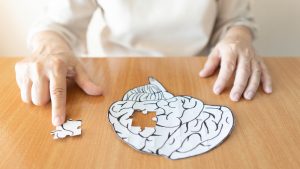 People with psychotic disorders such as schizophrenia are 2.5 times more likely to develop dementia than those without a psychotic disorder, according to an evidence analysis conducted by UCL researchers. The systematic review and meta-analysis, published in Psychological Medicine, found that psychotic disorders may have a stronger association with dementia than other mental health disorders such as depression or anxiety.
The researchers brought together evidence from 11 studies from nine countries on four continents, totaling nearly 13 million participants. They found that across a range of different psychotic disorders, and regardless of the age at which someone first developed their mental illness, there was a higher risk of dementia later in life. Some studies have included people diagnosed with psychotic disorders in young adulthood with follow-up periods of several decades. They also found that people who had a psychotic disorder tended to be younger than average when they were diagnosed with dementia, with two studies finding that people with psychotic disorders were much more likely to be diagnosed with dementia while they were still in their 60s .
Causes not Clear
Previous research has shown that depression and anxiety also increase the risk of dementia, but recent findings suggest that psychotic disorders are most strongly associated with dementia risk. The researchers could not confirm the cause of the association, whether it is due to the mental illness itself or perhaps because psychotic disorders increase the likelihood of illnesses, which in turn increase the risk of dementia.
Part of the link may be because psychotic symptoms might be early signs of dementia for some people, but the fact that some of the studies had very long follow-up periods and included people who suffered from psychosis at a young age suggests that this is not the only explanation. According to the experts, people with psychotic disorders may be more likely to have other health problems, such as cardiovascular disease or obesity. In addition, they often pursue a poor diet, smoke or use drugs, which can damage their health and increase the risk of dementia.